Scratching the Surface #windowschampions
I have never, until this month, written a sponsored post. It's not that I'm against them, I just haven't found things really worth talking about. And then last fall, Microsoft asked me to test drive the new Surface tablet as part of their Windows Champions program. They were kind enough to loan and ship me a shiny new Surface, and I just couldn't say no!
Full disclaimer here: I've been a Mac user for over 10 years. In fact, since I was in my first year of university 10 years ago, I have only
ever
owned a Mac. I get to work on a PC at my day job, but my usage of it is very limited. I've always wondered what it would be like to own a PC, especially now with their new software. Hopefully I will find out over the next few months, but let's start with first impressions!
If you haven't seen this commercial yet, take a looksie. Like many, this was my first introduction to Windows 8. I love the commercial in every way. It really feels like Microsoft is approaching Windows 8 and Surface in the right way. And, what's not to love about this Lenka song.
Although it would be hard not to take notice of the catchy commercials and product placements, I was particularly drawn in when one of the final episodes of Gossip Girl had Serena Van der Woodsen cooking from a recipe displayed on her Surface. I might not have the chance to prepare a meal in an Upper East Side penthouse, nor would I be able to purchase even a single outfit from her wardrobe, but if Serena and I can be Surface sisters, I will take what I can get. Count me in!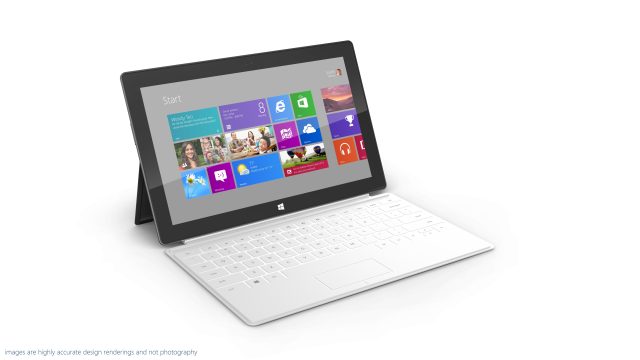 After a bit of a hold up at the border, I received my package earlier this month and eagerly started to explore it. It solves all of the issues I have with my iPad. Not having a case or stand nearby, I'm often frustrated trying to follow a recipe on my iPad, using tea towels and dishes to prop it up. The built-in kickstand is the perfect, "why hasn't this been thought of before" solution. Speaking of which, the cover. Oh, the cover. Another "why doesn't my iPad have this?" feature, the keyboard-cover is both sleek and functional and graceful to type on (no chipped manicures here!).
One thing that doesn't translate well in the marketing materials is what the other side of the cover looks like. I didn't have high expectations as my iPad Smart Case is nothing I'd rave about. I was, however, pleasantly surprised by the Surface cover. The charcoal felt-like material feels both luxurious and durable at once. In fact, it is aesthetically my favourite part of the entire shebang.
Tack on some pretty amazing apps and a full Office suite, and the Surface is certainly something to write home about. If you already have an iPad, there's obviously no sense in buying something so similar, however if you haven't taken the foray in the tablet digital world yet, and want something functional with more features than just a tablet, the Surface may be just right for you. It really combines the convenience of a portable tablet, with the function of a laptop, which is a lot more than I can say for my iPad.
Disclosure: I am a Windows Champions Blogger for 2013. As part of my participation in the program I will have the opportunity to try out new products and promotions. As always, 100% of opinions are my own.